Plus get bigger, stronger and leaner, faster and easier than you probably ever thought possible...despite the prohormone ban...
BREAKING NEWS
Legal loophole allows sales of banned Andro bodybuilding supplement...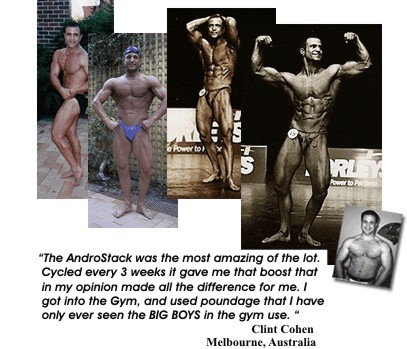 Recently the FDA put a ban on all "andro" products...here's a short list of banned andro products... 'Ergopharm 1 AD, AST 4-diol-250,19 NorAndrostenedione
Androstenedione,and Androdiol' to name just a few of the prohormone banned.Click here to read about the ban. The ban however has not prevented sales of one small Australian bodybuilding supplement company, http://ironpower.biz that manufactures natural herbal AndroStack and Androgel . Says former Mr Australia and CEO of Ironpower, Richard Hargreaves, "We have been manufacturing the extremely effective but controversial formulas for 7 years now. Unlike USA, where Andro has only recently become illegal...it has never been legal in Australia."
Buy Legal steroids...
Says Richard, "The Australian government was quick to move on androstenedione 7 years ago and put it in the same class as illegal anabolic steroids right from the outset. Because of this, Ironpower developed a product called AndroStack and Androgel using a different approach, which is a legal steroids alternative. Instead of using isolated extracts of androstenedione, like all the American companies, Ironpower used complete herbal bases, containing the whole herb.

This made Ironpower's Andro Stack legal, and no prescription is required. AndroStack
"Helps promote increased lean body mass and decreased fat mass in conjunction with intense physical exercise"
It is the only product of its type in Australia that can make such a powerful claim. Because the androstene within the product is contained naturally within a whole herb extract, and has not been isolated into a single chemical, as are the other prohormone androstene supplements which were recently banned in the US, the product is legal. (Although it is banned by most sporting bodies, including the IOC. Check with your own sporting body first). The herbal extract containing androstenedione is Trifolium Pratense. Ironpower worked extensively with a former CSIRO (Commonwealth Scientific & Industrial Research Organisation- The world renowned Australian government scientific research institute) chemist, Dr Henry T. O'Meissner BSc Msc PhD Nutritional Biochemistry (Listed in Longman's Who's Who in Science) in designing the supplement.
QUESTION: I know there have been studies on the ability of androstenedione to convert to testosterone…but are their any studies specifically relating to the effects of red clover on testosterone production?
ANSWER: A Chinese study demonstrated a 35.9% increase in testosterone when Roosters were fed a Red Clover supplemented diet. Also of significance is that Body weight gain and feed conversion improved by 5.1%

and 9.2%
.EFFECTS OF TOTAL ISOFLAVONES OF RED CLOVER ON MALE BROILER GROWTH AND SERUM TESTOSTERONE CONCENTRATIONS J. Wang and Z. K. Han
Department of Veterinary Medicine,
Nanjing Agricultural University, Nanjing, 210095, P.R. China.
Ironpower's Andro comes in two forms...a liquid oral formulation, and a topical gel formulation for application to the skin.
The liquid version is taken twice per week before weight training, whereas the gel is applied daily before bed.
Both versions are designed to build bigger, stronger, and leaner muscles...fast
When asked about side effects Richard says "Taken as directed the products are very safe. One frequently reported
side-effect of the gel was increased bedroom sports performance...a kind of natural Viagra...but
overall there are no reported negative side-effects when used as directed"
In fact, the main ingredient of Ironpower's AndroStack, Red Clover (Trifolium Pratense), could provide many other benefits than just building muscle and losing fat (although these will have the most appeal to the eager young bodybuilder wanting to get as big as they can…as fast as they can)
Red clover contains high quantities of plant-based estrogens called isoflavones that may improve menopausal symptoms on women, reduce the risk of bone loss, and lower the risk of heart disease by improving blood pressure and possibly by increasing HDL cholesterol (the "good" kind of cholesterol).
Isn't estrogen the female hormone…how can that build Muscle?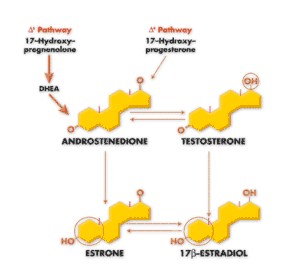 GOOD QUESTION: Large amounts are detrimental to bodybuilders…but small amounts can actually turn on testosterone production via a complex feed back loop mechanism. Phytoestrogens act as aromatase inhibitors at low concentrations and are estrogenic at higher concentrations.
Dual Effects of Phytoestrogens Result in U-Shaped Dose-Response Curves Environmental Health Perspectives v.110, n.8, Aug02

Kristian Almstrup,1 Mariana F. Fernández,2 Jřrgen H. Petersen,1,3 Nicolas Olea,2 Nieals E. Skakkebćk,1 and Henrik Leffers1

1Department of Growth and Reproduction, Rigshospitalet, Copenhagen, Denmark; 2Hospital Clinico San Cecilio, Laboratorio de Investigaciones Médicas, University of Granada, Granada, Spain; 3Department of Biostatistics, Copenhagen University, Copenhagen, Denmark
The right amount for positive effects...
And that is what AndroStack provides…phytoestrogens at just the right amount…enough to give the positive effects you're after (building muscle, losing fat) but not so much that you get unwanted side-effects such as gynecomastia (bitch-tits). This is why it is important to take AndroStack exactly as described on the bottle…only twice per week…immediately before training. Intense weight training provides the catalyst to convert androstenedione along the right pathway (Andro can convert either to testosterone or estrogen…see diagram above). Androstenedione is a natural chemical precursor to testosterone, estrone and estradiol. Increasing androstenedione levels are observed at the onset of puberty, but gradually begin to decline after age 30. Decreased androstenedione levels are often observed in cases of male infertility, as insufficient levels cause a reduction in sperm count. Decreased levels are also seen in women throughout the postmenopausal period and in aging men.
Bodybuilders have long known the benefits of increased testosterone for building huge, strong muscles and getting ripped in record time...NOW YOU can get a head start building muscle and losing fat today with Ironpower's Andro products...
Ironpower has two

super effective

natural herbal formulations to choose from...

a fast acting liquid, and a slow release gel...






LIQUID
Andro stack
$59.97 US
To order safely online by credit card,
click the BUY NOW button above...and follow the easy steps through the PayMate express payment wizard.


SPECIAL 2 for 1 offer
BUY 1-get 1 FREE!
Androgel $69.97 US

To order safely online by credit card,
click the BUY NOW button above...and follow the easy steps through the PayMate express payment wizard.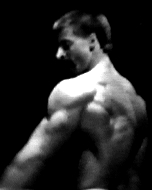 Developing your best body is a science, and cannot be left to chance. I've spent 3 decades of my life researching and helping people achieve their physical goals. Ironpower's winning edge performance nutrition takes away any guesswork, making your dream body a reality in record time. Don't waste another minute just dreaming...when you could be achieving. Get started today...You have nothing to lose except fat...and everything to gain...Especially muscle!
Richard Hargreaves
1984 Mr Australia
CEO Ironpower
P.S. Buy 1 AndroGel today and not only can you start building more muscle mass and burning fat at a faster rate than ever before...as a SPECIAL BONUS we'll throw in an extra one for FREE! BUY 1-get 1 FREE! That's 2 for price of one...SAVE $69.97... Be quick though...the 2 for 1 BONUS SPECIAL for AndroGel is for a limited time only.