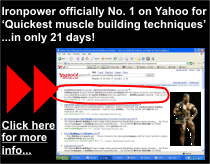 News...We're officially number one on Yahoo! for Quickest Muscle Building Techniques after only 21 days...more info...
24 February 2007...Male pattern baldness and prostate enlargement are caused by the same thing...the conversion of testosterone to DHT (dihydrotestosterone). Prostate enlargement is known by the medical term Benign Prostatic Hyperplasia or BPH. Propecia, or as it's generically known, Finasteride, is a medication that inhibits the enzyme necessary for the conversion of testosterone to DHT in the prostate. Therefore, administration of finasteride lowers blood and tissue DHT levels and helps reduce the size of the prostate gland and reduce hairloss. For more on this, click here.
20 February 2007...Just found out about a new stop smoking aid known as Chantix by Pfizer laboratories. It is very effective at helping smokers quit the habit, and works differently than other smoking cessation drugs. Click here for more info.
25th November 2006...I've recently discovered a new medication which improves concentration and productivity. The generic name for it is Modafinil, and it is most commonly referred to by the brand name Provigil. Click here for more info.
Following on from the last posting re acne sufferers, if you have really severe acne and you've tried just about everything and nothing has worked...as a last resort you may have to move to a powerful drug called Accutane. Click here for more info.

10th August 2006...If you suffer from acne, I have just the resource for you! I have just built a website with lots of free info on treating acne...including a FREE 70+ page eBook you can download. Click here for a review of the best acne blemish treatments and to get the book. Ironpower has also developed a new product to treat acne. It is a topical 4% Niacinamide (nicotinamide) cream.
31 JANUARY 2005 PRESS RELEASE Muscle Building Secrets Exposed...Australian Tennis Star Hewitts Intimidating New Body Serves an Advantage (Special report reveals that not only does Lleyton Hewitt's newly muscled body provide a distinctly obvious physical advantage...it also serves up a powerful psychological advantage.) Click here to read
31 JANUARY 2005 NEW...Instant Muscle Advantage ...just add water (and a little sweat)
Your FREE no-nonsense guide to building maximum muscle in minimum time with the least amount of effort…scientifically based and real world tested by former Mr Australia and personal trainer, Richard Hargreaves. Covers 4 main areas which Richard considers the 4 key elements to success-Attitude, Exercise, Diet, and ergogenics (performance enhancers). The exercise section reveals a secret training routine that is the most effective for packing on muscle fast that Richard has come across in his 3 decades of experience.
24 January 2005 PRESS RELEASE Ironpower Bodybuilding Supplements Flexes Muscle…Beating Top 3 Australian Heavyweights…Musashi, Aussie Bodies, and Aminoactive (Max's)
18th January 2005 NEW FREE eBook SPECIAL REPORT...5 Familiar Bodybuilding Troubles-Which Do You Want to Overcome? 32 information packed pages. Click here to download.
NEW THOUGHT FACTOR eBook... Build mental muscle with Ironpower's THOUGHT FACTOR Mind Success Pack. Three powerful books for only $9.99
click here for more info
Groundbreaking soup!...To say I'm stoked with our latest achievement would be an understatement...click here for a new soup recipe capable of building muscle, losing fat and re-juvenating your tired body...for FREE!

What's this? If you would like a FREE RSS feed of the latest muscle building...fat loss info from Ironpower added to your My Yahoo!...click on the icon. You will be the first to know of the latest updates and news from us...
Our goal at Ironpower is to provide a clear and simple, easy to follow, total solution to your personal body transformational goals.
The sitemap will give a good overview of some of the valuable info you'll find on this site...and all for free!.
Fitness Tools...FREE software to help you on your fitness quest...includes a calculator to let you know how many calories you've burned during a run.
Fitness-site-blog...Just added...Visit our new weblog which will keep you up to date on the latest fitness tips...
There's a seven step body transformation plan...Don't let its simplicity deceive you. It is powerful, effective and fast at putting you on a path (more like a super highway!) to your dreams.
Comprehensive guide to supplements and how you can use them to accelerate your results and improve your performance
Free downloads page...page 1 has five comprehensive e-books packed with heaps of valuable information to help you achieve your muscle building and fat loss goals. On page two of downloads you'll find a couple of nifty free software program downloads...one is a reminder buddy that sits in your computer task bar and reminds you when it's time to take your supplements, train, or have a meal/snack etc. The other program is called fatalyser, and will help you assess your present physical state by measuring your body fat levels.
Tell a friend service...if you like the site and know of someone who could benefit from visiting...please let them know. If you have your own website...you may also like to use this free service on your site too.
If you're pushed for time and don't want to wade through lengthy explanations...you'll love the quick tips section. Here you'll find the top tips for building muscle with the quickest muscle building techniques using exercise and diet....Valuable information distilled down to its very essence in point form. I will be building on this to include tips on fat loss as well over the next few weeks...so stay tuned.
And coming soon...
Feedback poll...tell me what you think, so I can be of better service...
Motivational screensavers...
More programs, diets, and tips to speed your physique goals
The WOW newsletter... To help keep you on the path, I will soon be releasing a free newsletter ezine called WOW (Work- Out -Wisdom), which will contain valuable tips and secret shortcuts to help take your body to the next level, and keep you on the motivational success path.
Plus much, much more...